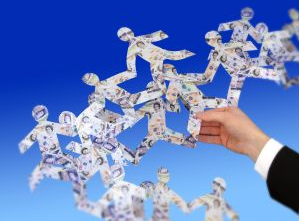 As far as future recruitment trends go, it would appear that the use of professional social media platforms is increasing.
The 2013 LinkedIn survey of global recruitment trends revealed that increasing numbers of employers are jumping on the social media bandwagon to seek employees, suggesting that who you know is indeed becoming just as important as what you know.
The third annual survey of its kind was carried out across 19 countries, gathering responses from 3,300 HR professionals. As well as trends shaping the future, the study also revealed employer priorities and top recruiting methods.
Trends and priorities
The biggest news to arise from the study is the prospect of professional social media as a lasting recruitment tool for the future. Professional social media networks were revealed as the second most important source of quality hires behind Internet job boards. This is an increase of 11 points from 2012, making it the fasting growing talent source.
In the light of the survey results, LinkedIn also put together a table of top 5 recruitment priorities for 2013:
Recruiting highly skilled talent (44%) – Germany deemed it most important overall.
Quality of hire (30%)
Employer brand (25%)
Pipeline talent (25%) – This was the number one priority for South East Asia.
Improving sourcing techniques (18%)
You can see here how the rise of social networks in business has become so significant due to its ability to help businesses satisfy their top priority of recruiting a talented workforce. The two go hand-in-hand, and this is fundamental for the future of business.
Looking to the future
Overall, the study outlined the biggest trends shaping future recruitment.
The top 5 are:
Utilizing social and professional networks
Upgrading employer branding in the need for a competitive edge
The use of data to make better hiring decisions
Internal hiring to reduce the loss of talented employees
Mobile recruiting
The latter emphasises the increasing habit of companies to adopt modern technology to get ahead of their competitors.
Social and professional networks still lag behind Internet job boards in the overall chart of most adopted recruitment methods. The latter represents 38% survey respondents, while the former is just behind with 37%.
However, the use of social media platforms is continuing to rise, while Internet job board use has dropped by 1 point over the past year. It seems inevitable that the more modern and interactive social method will overtake the current leader to establish itself as the dominant recruitment method.
Mailchimp form

Topics

Tags