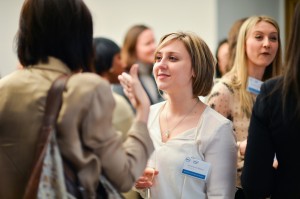 Leaders in international business have revealed that the ideal global executive would be female, single and in their late twenties or early thirties. Although employers are not able to assess candidates according to gender, age or marital status, international assignees fitting this profile have proven to be the most successful, according to a study by health insurer, Expacare.
An article by The Telegraph quoted co-president of the Professional Women's Network in London, Ines Wichert, on why she thought women were so successful on the global business stage. "Women are well-suited for international assignments due to their strong interpersonal skills which can make an important difference when a person has to show cultural sensitivity and build relationships with new colleagues and customers once abroad."
The news that employers increasingly prefer to send female employees abroad on international assignments is reflected in the changing demographics of expat workers. Brookfield Global Relocation Services published the findings of their latest Global Relocation Trends Survey in December 2013. The survey reported not only a year on year increase in the number of female employees working overseas, but that 23% of international assignees were now women.
International health insurer Expacare, recently published the Anatomy of an International Business 2013-14. The report examines what companies look for in the employees that they send overseas. The findings reveal that women are now the first choice for international assignments.
However, gender and age are not the only important considerations for employers. Expacare's survey highlighted excellent networking and foreign language skills as the most sought-after qualities, as these have been proven to effectively aid integration into a foreign business environment.
Expacare questioned the global mobility decision makers at 1,000 organisations, to see not only what employers look for in their international assignees but also the challenges that they face when sending staff abroad.
The process of relocating staff can be complex and costly, therefore companies are eager to understand the challenges faced by international assignees when moving and working abroad. In this way they can find the most suitable candidate first time and avoid having to replace international assignees that return home early. It was found that the biggest concerns were financial; such as pensions, banking and the different tax system in a foreign country.
The report also looked at how expat workers make the decision to head overseas. For 52% partners or spouses were involved in the decision making and 33% consulted parents. However, 39% made the decision to take on international assignments alone, which supports the idea that the most suitable expat workers are usually very independent people.
Beverly Cook, managing director of Expacare, said: "It is interesting to see who living overseas suits most in terms of age and gender, but it is equally fascinating to see the most desired skill set for these employees. Language and networking skills continue to come out on top despite the world increasingly becoming a highly globalised and linked up place."
__________________________________
Image: Computer industry entrepreneur workshop by Dell's Official Flickr Page
Mailchimp form

Topics

Tags